What to expect at a meeting
For a start - a very warm welcome.
Many people believe Rotary is exclusively the domain of the retired professional male, i.e. the archetypal old boy's club. Nothing could be further from the truth with The Rotary Club of Bedford De Parys.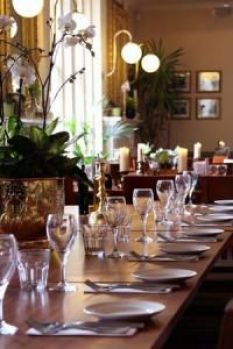 Our Club was the first Rotary Club in the District to be set up with both Male and Female members. We do not meet for lunch or even dinner. We meet for breakfast every Wednesday at The Embankment Hotel at 7.15am. for 7.30am start. We have a business meeting on the first Tuesday of each month in the evening at different venues. The hotel address is The Embankment, Bedford, MK40 3PD. Have a look at our Calendar and you will see that although there is a certain amount of business at our meetings we also have some very interesting speakers.
We decided to meet for breakfast because many of our members are successful business people and professionals, many with families, and therefore a breakfast meeting ensures we can all get together regularly and still have plenty of time left for work, family and other interests. If you would like to come along and get a taste of Rotary please contact the webmaster.