Janet Turley
Chartered Accountant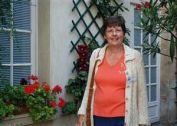 I was a founder member of the Rotary Club of Bedford De Parys in 1999 and Club Secretary for the first 2 years. I am now one of the Club's International representatives because of my interest in the Tribal Health Initiative at Sittilingi in Southern India. 


I am a Chartered Accountant working from home as a sole practitioner, mainly for small businesses and personal tax clients.
I've been married to David since 1978 and we have 3 children, Paul, Kate and Emma, who are all old enough to vote but still manage to absorb quite a bit of my time. 


My main interest outside of work and Rotary is as a volunteer for ALLEF (Association for Learning Languages "En Famille"), a charitable organisation which sets up six month exchanges between families in the UK and France or Germany for primary school children. Both of my daughters did exchanges when they were younger and we still maintain contact with our French families.