Liz Talbot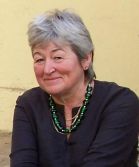 Born and lived in Spalding, Lincolnshire until 1970 when I married Chris. Educated at Spalding High School for Girls. In 1965 I joined Barclays Bank straight from school and worked for them in various fields and locations. Came to live in Bedford in 1975 after a year living in Northampton followed by four years at Cranfield University. In 1972 when I had my first son William it was Bank policy that I had to resign. So followed eleven years as full time housewife and mother to two more children Tom and Kate. Eventually after a short spell working in Beales local department store I joined Lloyds TSB in 1977 and worked part time for them until I retired in 2008.
Work, family, rugby and rowing have brought me many friends and acquaintances in the town and I feel very much a part of Bedford. We have had many years involved with classic cars and classic motorbikes which have brought international friendships and exchanges.
With Family grown up and left and retirement, Rotary has provided me with that much needed link with local people and organisation and the opportunity to do some voluntary work. Spending a lot of time in France means I can't always make breakfast meetings but am always welcome on my return. I see all of my children regularly and am very proud of my five delightful grandchildren. Thankfully I never wake up in the morning and wonder what shall I do today.

Liz has moved to Scotland to be nearer family but she still enjoys Rotary with her local club and she still keeps up her link with the Rotary Club of Bedford De Parys